Episodes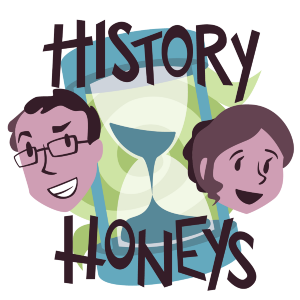 Monday Apr 01, 2019
Monday Apr 01, 2019
Today, Grant is delivering an episode one day early to tackle our biggest topic yet: Everything. And from the dawn of time, to the dawn of man, to the nearly unbelievable events of recent years, we're touching on as much of it as we can. Realistically, it's impossible. Don't let that stop us! It's a very special episode. Share it with your friends!
Thank you for enjoying our first April Fools' episode. The calendar says this won't happen again for a good long time. We'll be back with our regularly scheduled reliable facts on the 16th.
Fellowship 2nd Edition on Kickstarter
Please help our show succeed by sharing it. Send a link to someone you know and tell them what you enjoy about History Honeys. Rate and review us on iTunes, Stitcher, or whatever other platform you use to hear us. It helps so very much and we do appreciate it. You can connect with us on Facebook, Twitter, Instagram, or by emailing us at historyhoneyspodcast at gmail. The episode 74 prompt is: What is your favorite deadly disease?